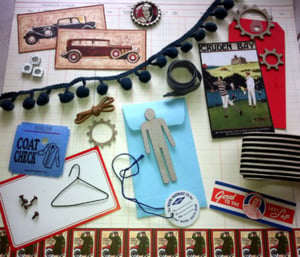 $

7.95 - On Sale
This kit includes vintage male themed ephemera and embellishments.
'Good To The Last Sip' Product Label
5 x Antique Brass Mini Brads
Coat Check Ticket
Mini Wire Coat Hanger
12 x 'Good Clothes For Men' Reproduction Postage Stamp
12" Binding (various colours)
Large Dennison Label
Blue Seed Envelope
2 x Vintage Car Image Reproductions
Male Chipboard Figure
12" Leather Strapping (various colours)
Red Shipping Tag
Retro Male Image Bottle Top - exclusive Lil' Red Rocket design
3 x Chipboard Cogs
15" Navy Ball Trim
Vintage Male Sporting Ad Reproduction
Antique Hardware Co. Est. 1862 String Tag
12" Black and Cream Grosgrain
3 x Small Square White/Grey Buttons
PLEASE NOTE: Whilst we take great care in the products we source due to their vintage nature they may be used and shows signs of wear and tear.
If for any unforeseen reason we are unable to supply a particular product it will be substituted with a similar one of the same or greater value.